Hi Everyone!! It's challenge time again at
Sketch and Stash
and this fortnight we have a bit of a change for you... this time we would like to see your circle cards... we can't wait to see the cards from those who take up the challenge... will you be brave enough?? he he!!
And here is the card I have made using a neglected Tilda stamp which I love but when you have a few they tend to get neglected don't they!! I made my circle easel card using my Nesties... it's quite easy so give it a try!!
For this challenge we are sponsored by
Simon Says Stamp
who are offering a $20 voucher to one lucky winner...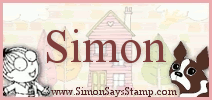 Last night I read about Michelle who has had a terrible accident whilst tending to her Donkies... so Stampavie are raising funds for her by asking all us kind crafters to donate $3 in exchange for a beautiful Donky Digi image... if you have $3 to spare (it's just over £2) then please do help out... you can read the post here...
And now... you might recall that last week I had an appointment to have my make-up trial for my friend's wedding where I am Bridesmaid... well here is the result... In real life I looked like a clown but on the photos it wasn't too bad... she kept saying it had to be caked on for you to see it in the photos lol!!
You can just about get a sneaky peak of my dress... I will leave the rest for the big day he he!! I think the eye make-up needs to be a bit more smokey and less purple so it matches the dress but there you go!! Today I am going to have my dress altered... it's too long and too big around the bust (depressing I know he he!!) I wish I could say that I filled the chest area but I'm not blessed like that!! I am taking Dylan with me as he's got the runs at the mo and was sent home from school on Friday because he had a rather big accident!! Bless him!!
Thanks for looking as always!!
Love Becky xx