Hi Everyone!
The challenge this fortnight at
Sketch and Stash
has just been set and here is the sketch we'd like you to follow this time...
We are very pleased to be sponsored by
Simon Says Stamp
again and they are offering a $20 voucher to one lucky winner!!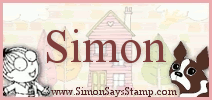 And here is the card I made...
For my card I have used all neglected stash... the Forever Friends decoupage was sat in a QVC box under the stairs... I had forgotten I even had it until I was watching the same kits on Create and Craft and I started to think "I'm sure I bought that!" LOL!!
And at the
Pollycraft Monday Challenge
this week we have a recipe for you to follow... 4 papers, 3 embellishments, 2 ribbons and 1 image (that was a toughie!!) But I got my head round it and here is what I made...
I have coloured the Pollycraft image with watercolour crayons for a change, I'm not always happy with the results but I think this one turned out well!
Well... I am going to have a busy week this week... later on this week I have loads of cards to share with you... it's a bit of a secret at the mo... but all will be revealed on Thursday!!
Love Becky xx